Decentralization has become the top priority to most blockchain investors, they look for a censorship-free platform before considering any project. The gaming industry is not different from them. Therefore, today you'll learn about an online gaming platform, where you can earn passive income with a tiny investment. Yes, it is "DABANKING", an interesting and promising blockchain project.
I'm going to introduce you with "
Dabanking
" a decentralized blockchain platform (DApp) aiming to revolutionize the virtual gaming world and digital entertainment industry. It's setting up a new level of trust using a decentralized network. The founder and team members are highly skilled and ambitious of Dabanking's success.

It is noticeable that there has been an ever-increasing demand for online gaming and casinos worldwide. Alongside, blockchain becomes the mainstream when developing a game or gaming platform. DABANKING using
blockchain technology
adding value to the online gaming industry. It will bring back the trust and transparency of the gaming community.
About DABANKING
DABANKING
is a browser-based gaming platform created with the decentralized network. From FomoJackpot to Dice Roll, all games can be played in a safe and transparent platform where anyone could do an audit publicly as it is based on open source codes. DABANKING cuts out all the centralized mediator to keep users safe from cyber attacks and server crashes.
Why DABANKING?
The lack of transparency and fairness preventing the gaming industry from its expected growth. DABANKING building a game ecosystem on Dapp to provide the best service to the gaming community to resolve the issue. We know, in many games, the developer uses tricks to elect winners, sometimes they even ban users which is an offensive act but users can't do anything becasue of unknown identity. DABANKING cutting all these confusions and bringing back transparencies to the industry by developing a white-label gaming platform. The DABANKING aiming to change the current paradigm of online gaming with the help of blockchain technology. Currently, the primary attraction of the platform is FomoJackpot and DAA token mining.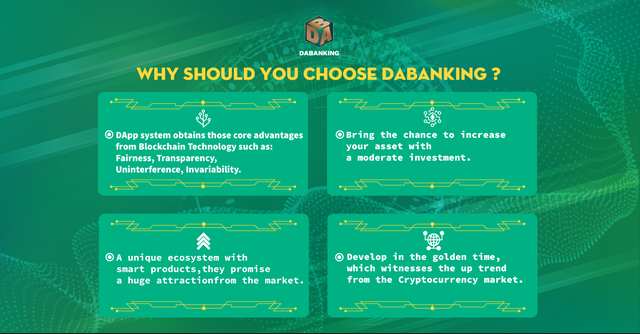 What is FomoJackpot?
Here is a one-line answer: It's a lottery program to choose winners.
FomoJackpot is a lottery program where the application selects one or more winner as per the command of coding. As you know, "Code is Law" this game is a probably fair game in the industry. It has no trick, as the whole thing is decentralized with blockchain smart contracts.
How DABANKING and FomoJackpot works?
FomoJackpot runs in the DABANKING ecosystem chain through a smart contract integration. The program at DABANKING ensures the transparency and fairness of the game. All critical data to ensure the fairness is publicly available. With the Dapp, DABANKING promises to deliver the best user experience for FomoJackpot. Users need to buy tickets in order to enter for the draw. The chance of winning is huge as it requires only 0.002 ETH to buy a ticket while the winning prize could be worth over thousands of os US dollar.
Winning prize
DABANKING creates a completely transparent network where users can get their satisfaction by checking all the information they want about the FomoJackpot and related data. Therefore, the winning fund is a critical thing that most users would like to check.
For the main prize, 50% of ETH sales has been allocated. For example, if sales are 200 ETH then the prize will be 100 ETH. Here is the total allocation in percents:
Diamond Chest = 50 percent
Ruby Chest = 20 percent
Gold Chest = 5 percent
Silver Chest = 4 percent
Drawer prize = 1 percent
Next round = 20 percent
DAA Token
DAA is the native token for Dabangking platform. To incentivize users and making payments DAA token will be used on the site. Users will get DAA mining chance by involving with the platform games. If you have used 0.05 ETH, you will get 1 DAA regardless of your gaming result. That means it doesn't matter you won or lose in the game. You'll still earn DAA token which will be enlisted in exchanges shortly.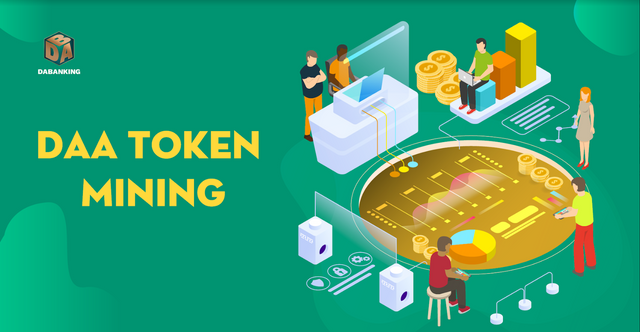 Final Words
DABANKING brings excitement with higher security to the gaming industry, it offers attractive
earning opportunities
for gamers which could be a great way of long-term passive income.
Official Links:
Tags: #Dapps #DABANKING #FomoJackpot #Blockchain #ETH
---
---