Cryptocurrency
Masternodes
DACHCOIN: Advanced Crypto Monitoring Platform : List, Trade, Watch
September 27, 2018
First off, my "condolences" on the prevailing bear market. Some of us lost track of the market and the prices fell too quickly fo...
First off, my "condolences" on the prevailing bear market. Some of us lost track of the market and the prices fell too quickly for us to react to it. Myself I had bought some Etherum at $290 and right now the price is nothing to write home about, and that's that.
So recently I came across a platform that I believe would be of great benefit to crypto enthusiasts. The platform comprises so many features that bring all the useful things a crypto expert needs to one place. The platform is DACHex
What is DACHex?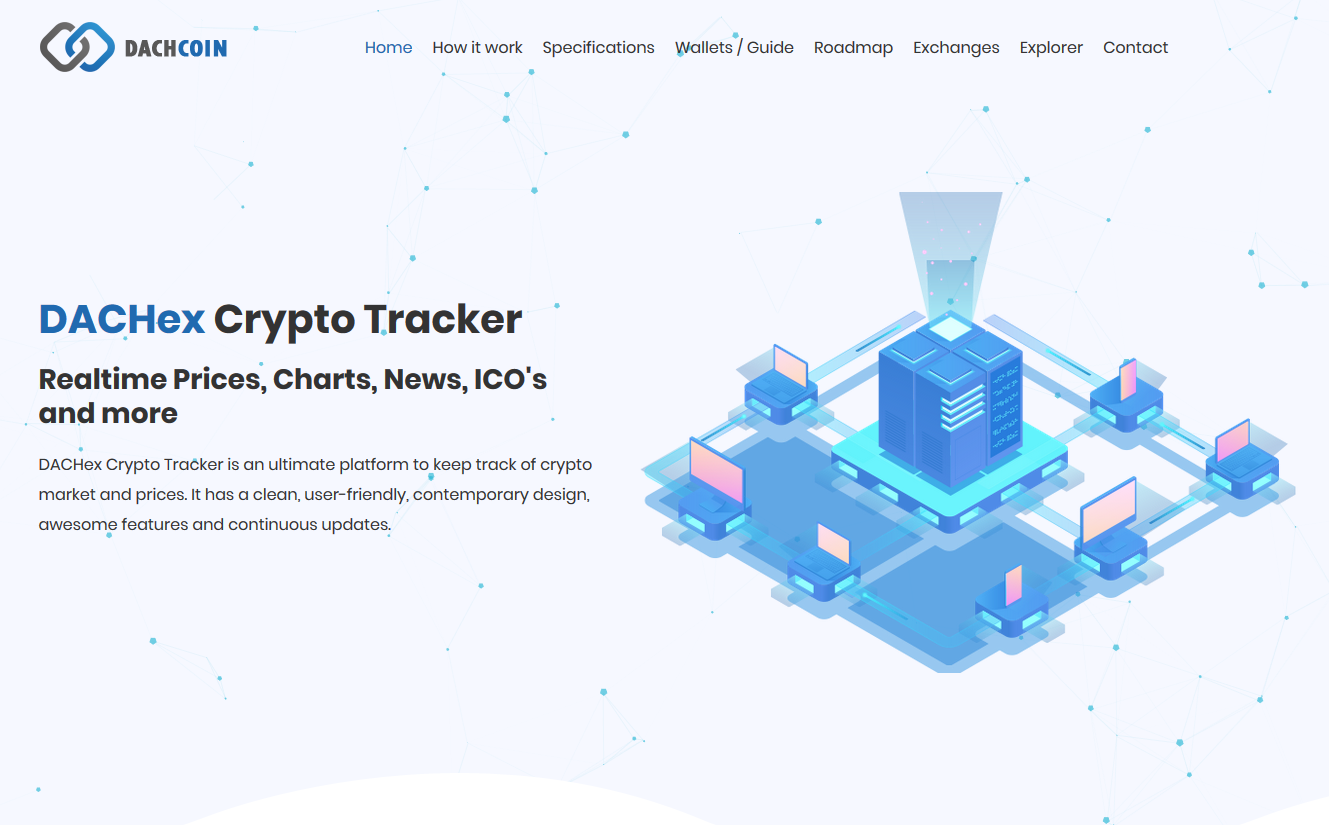 This is a cryptocurrency platform that allows you to track live prices and charts from one platform. The DACHex platform was created by a team of hardworking developers - the DACH Core team. On DACHex, you will be able to keep track of all crypto markets and prices easily. You will also be able to create your own portfolio on the platform to track your assets Live! Well, there are a hundred other platforms that have this feature, but here's what makes this one special.
Posting And Reading News
In addition to monitoring live coin prices and charts on DACHex, you will also be able to post news and read latest crypto news on the platform. So while monitoring the markets, you can also stay up-to-date on the latest crypto happenings. This feature will be implemented within roles i.e only users who have met the criteria needed will be able to post. And this brings us to memberships!
Memberships
There are two membership roles on the DACHex platform;
Basic: Being a basic member is free, you can register and read news and others for free
Premium: Premium members will of course have access to more features on the platform than basic members, some of which include Banner Ads Management, ANNs (new Coins), Dashboard integration and a host of others.
Featured, Active and Upcoming ICOS
For new start-ups that want to get the massive exposure that DACHex will provide, they can get featured on the platform in an announcement made by the DACHex team. Active and upcoming ICOS will also be announced on the platform so that investors can ready their funds to buy in early so as to make the maximum profit!
Instant Exchange With Changelly!
The Changelly instant swap platform will be implemented on the site where individuals will be able to instantly swap their currencies. No more delay like in regular exchanges where you have to wait for buy and sell orders to meet up.
Masternode Services
The DACHex platform will also allow the running of masternode services. Crypto lovers will be able to run masternodes on the DACHex platform!
Listings
New coins and currencies will be able to apply for listing on the DACHex cryptocurrency tracker platform. Just like in blockfolio and other listing platforms. Except that on DACHex you will be able to pay with the DACH coin!
DACH COIN
The DACH coin is a cryptocurrency built on the DACHex platform that will be used as the main mode of payment for DACHex services. BTC payments are also accepted because let's face it, it's the most used coin in all exchanges. But, the DACH team believes in their coin so they accept payments in it.
Let's check out the DACH coin specs
DACH COIN SPECS
Coin Name: DACH Coin (DACH)
Coin Type: POS & MN
Max Coin Supply: 38,000,000 DACH
Block Time: 1 Minute
Algorithm : Quark
Premine: 1M DACH
Maturation time : 101 Blocks
Min stake age : 1 hours
Encrypted transactions: YES
Mine-able: NO
Masternode Collateral: 5,000 DACH
Why you should have a DACH masternode
From the above, it's obvious that DACH coin has a very important usecase to the cryptosphere. I mean, as long as cryptocurrency is being used, DACH coin will remain relevant. And all relevant things have value. So you can get a DACH coin masternode today and stock up on DACH coin for the future!
See the DACH coin masternode rewards below: