Altcoins
Bitcoin
Cryptocurrency
ETF will also lauch this cryptocurrency
July 19, 2018
As we all know we have seen market showing its bullish trend may be this is the effect of ETF news when ETF will launch we can see huge gro...
As we all know we have seen market showing its bullish trend may be this is the effect of ETF news when ETF will launch we can see huge growth in bitcoin and in other cryptocurrencies too but there are is some other news which may all of you did not know that bitcoin is not only currency which is introducing in ETF these cryptocurrencies also introducing in ETF this is because these cryptocurrency hold almost 90% of crypto market which we can see in below data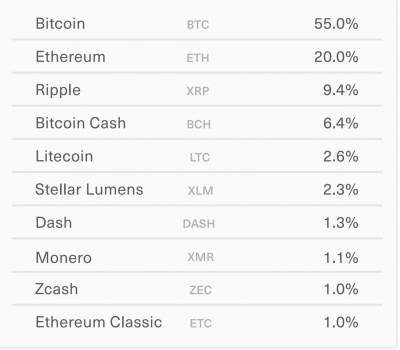 #Why introducing ETF will Skyrocket crptomarket?
When ETF will successfully be applied to these 10 coins which are listed above big investers have to purchase this cryptocurrecy in bulk so that their use will trade easily and this thing will skyrocket the price of bitcoin and all cryptocurrency hopefully.
#What is ETF?
ETF is an exchange traded fund in other words after ETF comes in bitcoin and other cryptocurrency bitcoin will simply act like as any share which we basically trade on share market once ETF get approval of bitcoin it will add on any international exchange to start trading in high volume exchanges must have bitcoin and other cryptocurrency in bulk so to do that exchanges will buy bitcoin in bulk and this buying will skyrocket the price of bitcoin and traders who trade on exchanged can trade easily.
#When ETF will come into action?
We heard some news that ETF will come in action in september 2018 but after september, it will also take lots of time to set all the things running smoothly simply we can say it can take 6 to 8 months or may be it will fully come in action in 2019.
#Will it affect altcoins?
As we have news today there is more 9 cryptocurrency which will launch an ETF. Now the problem is when these 10 coins will start trading on ETF platform price of these 10 coins will skyrocket and all investors and whales will mostly trade in these coins and volume of other altcoins will be negligible so people who are holding their coins for long term may be suffering from this but as we know every coin has limited availability so this thing will balance whole market people who will not able to buy these 10 coins will go for another so it is good in my perception.
ETF introducing in cryptocurrency is good or bad?
As everybody is saying ETF introducing in bitcoin and other cryptocurrencies will be good and mostly there are some reasons such as -
Bitcoins will accept by the whole world.
Bitcoins will get exposure.
People will start believing in cryptomarket who are not believing right now.
Big investors and whales will come into our market.
As we all know the price will boom.
Now the bad things which can happen after ETF introduce in cryptocurrency
Now we know that they are approving only 10 coins for ETF but we have almost 1700 coins and tokens so the
problem is when ETF will come in action most of the people will only trade in these 10 coins because there
the volume will be very high and profit too for sure but what about other altcoins rest of them.
These altcoins will also give us profit as we know we have limited coins available in the market. Like we have only
17,169,637 bitcoins right now not everybody will be able to purchase it because it is limited so people will find
alternative and alternative is the rest of the altcoins in this way every cryptocurrency will get exposure.
But in worst case scenario if bitcoins and rest 9 cryptos did not get that much exposure then it will be bad far our
market just my perception rest of the thing will only clear after ETF will come in action so cross your fingers and
pray to the good that everything will go well.
That's it for today thank you.